LIF Global empowers entrepreneurs who are making a positive impact in their communities with novel technologies.
Explore the LIF Global programme below:

The LIF Global programme provides innovators with opportunities to:
Identify business and personal development needs
Develop key technical areas with support from a mentor
Develop pitching skills with an opportunity to pitch in London
Develop, scale and fund your start-up
Build partnerships and networks in the UK, in country and internationally
Make sustainability an integral part of your business plan
Online onboarding
Participants:
Assess and build their entrepreneurial skills
Develop your relationships with your fellow LIF participants, mentors and trainers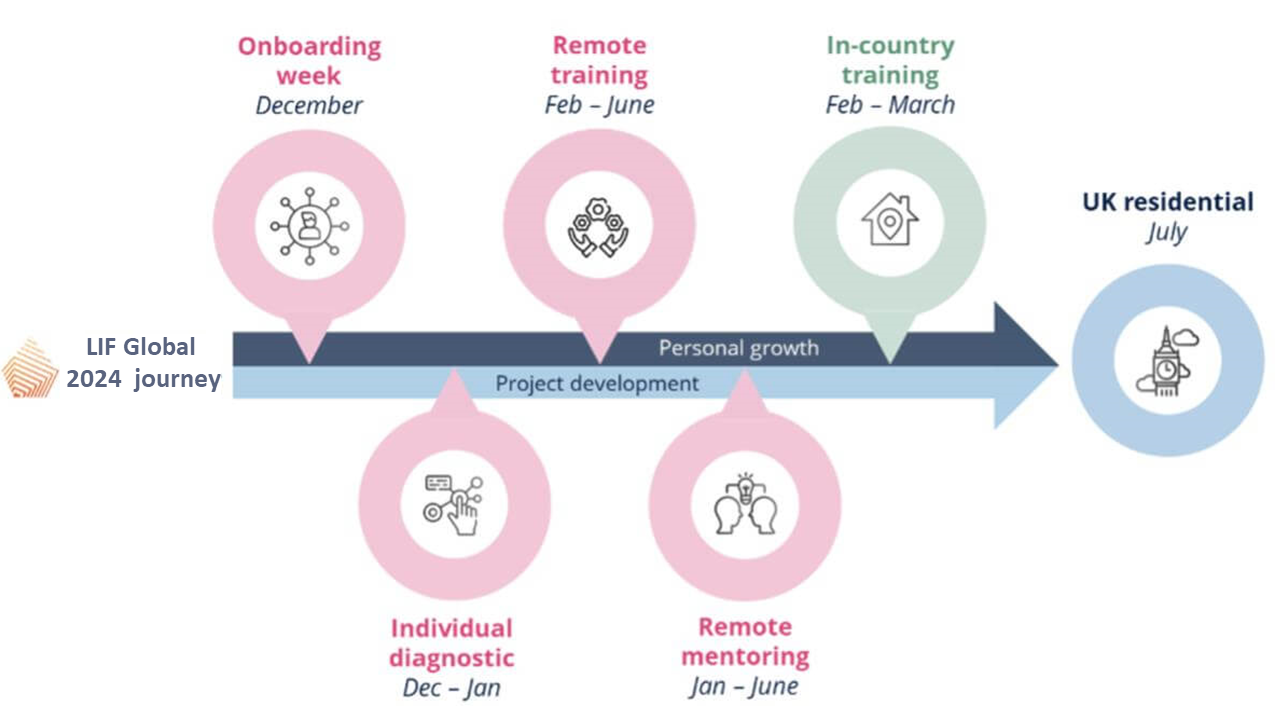 Individual diagnostic and online training
11 applied toolkit modules, across two levels ("Foundation Pillars" and "Advanced), covering topics such as business models, value proposition, finance, IP management, competitor analysis, business model innovation and pivoting, and marketing
5 masterclass training sessions covering topics such as delivering social impact inside and outside of your business, leadership and building a diverse team, and accessing global resources and internationalisation
3 remote pitching training sessions
In-country training events             

You will join a 4-day training and mentoring event in your country, organised together with our in-country partner organisation
Aims:
To contextualise learning to your country's ecosystem
To expand your networks of local experts and entrepreneurs
To build engagement with alumni in your country
To start developing your pitch deck
UK residential
Participants:
Travel to the UK for an in-person residential
Participate in training and network-building events
Pitch to an audience of investors and ecosystem leaders
International flights, airport transfers, and other UK travel incurred for this phase of the programme, plus hotel accommodation, meals, are paid for by the Academy. However, please note that successful applicants will be responsible for arranging and paying for their travel insurance and visa, as required, and covering any other expenses incurred during the programme.
Post-programme support
Participants:
Benefit from a series of mentoring and networking options delivered by the Academy's in-country partners
Participate in the LIF online community
---
Eligibility criteria
Applications for LIF Global 2024 are now closed.
1. The innovation must be at technology readiness level 4 or above, and evidence of a prototype should be provided in the application.
Learn more about technology readiness levels
2. The applicant's innovation can be any new product, technology or service, based on research in engineering defined in its broadest sense to encompass a wide range of fields, including, but not limited to:
Agricultural technology
Biotechnology
Chemical engineering
Civil engineering
Computer science
Design engineering
Electrical and electronic engineering
Materials science
Mechanical engineering
Medical engineering
3. Candidates must be the original innovator and own shares in the company created.
4. innovation should have the potential to benefit the applicant's country, or other developing countries, in terms of improving social welfare and driving economic development, and they should contribute one or more of the UN Sustainable Development Goals.
5. The primary application of the innovation must NOT be in the defence, military, or fossil fuel-based energy sectors.
6. LIF alumni cannot apply to LIF Global 2024. They can, however, apply to Advance.
7. Candidates cannot apply with an innovation/business that has been supported by LIF before (LIF 1 to 7, LIF Global 2022 or LIF Global 2023). LIF Global supports businesses only once. In addition, co-founders can't both apply to LIF Global 2024 with the same business or technology.
8. Applicants must be able to commit to LIF Global for a minimum of 4 hours during onboarding (13 and 14 December), and at least 20 days for training and mentoring between January and July, including 4 days (travel excluded) of in-person training in their country  and 14 days for the UK Residential in July. This implies being able to secure permission from all relevant employers to attend the programme if selected. The Academy will provide documentation on LIF counting as training or continuous personal development if required once you have joined the cohort. 
9. Applicants must be able to commit to travel internationally. All costs associated with the LIF Global programme will be paid for by the Royal Academy of Engineering, with the exception of visas and travel insurance . Participants will be asked to purchase a travel insurance covering COVID-19 testing and quarantine costs. The Academy will consider covering the costs of any caring needs related to travel on a case-by-case basis.
10. Applicants will not need to cover any costs associated with the training programme in London, nor need to have any funds to support a trip to the UK.
11. Candidates will need to demonstrate fluency in English to participate. This will be a key assessment metric. Please note that the residential programme will be conducted entirely in English. Make sure to write your application and upload materials fully in English to avoid being penalized: most UK reviewers are native English speakers. Please note that the residential programme will be conducted entirely in English.
12. Applicants must be committed to LIF Global and Academy goals.
13. Applicants must have a strong interest in commercialisation. Though previous experience of commercialisation or involvement with technology transfer is not required, this criterion is essential to successfully completing the programme, and will be a key assessment metric.