The award is named after past President and Academy Fellow Sir Denis Rooke and is normally awarded to an individual or small team (of no more than five) based in the UK that has supported the Academy's aims and work through their initiative in promoting engineering to the public.
Recent winners
2022: Dr Mark McBride-Wright - founder of EqualEngineers
Dr Mark McBridge-Wright is recognised for his tireless efforts to promote rapid cultural change in engineering and technology. Through EqualEngineers' events and training, Mark has engaged thousands of people to ensure organisations across the profession are truly inclusive. Their pioneering diversity employment scheme, the Pathways Programme, helps to address inclusion issues that disproportionately affect engineering students from underrepresented groups. As a gay safety engineer, Mark is also the chair and co-founder of InterEngineering, a non-profit industry body that connects, informs, and empowers LGBTQ+ engineers and supporters.
Find out more: EqualEngineers founder wins Rooke Award for public promotion of engineering
2021: Dr Larissa Suzuki
- Data and AI Practice Lead, Google Cloud
Dr Larissa Suzuki is, a technologist, entrepreneur and engineer who is working with Google internet evangelist Dr Vint Cerf to develop the Interplanetary Internet, as well as working on initiatives with UCL and Google Cloud on sustainability and smart cities. At the age of 17, Larissa initiated an educational program at weekends in her native Brazil, teaching maths and computing to young people and their parents, supporting them in acquiring new skills to escape poverty. Every year, her programme had over 13,000 attendees from economically deprived backgrounds.
After moving to the UK to pursue a PhD in computer science, amongst many initiatives, Larissa founded the UCL Society of Women Engineers and co-founded the London branch of the Anita Borg Institute for Women and Technology, bringing the joy of computer programming and engineering to thousands of women, minorities and young people. In her career of over 15 years so far, she has personally mentored over 400 women. Her initiatives have helped the Computer Department at UCL to receive the Athena Swan scheme's Silver Award, and the Minerva Informatics Equality Award 2020.
Dr Suzuki has also drawn powerfully on her own personal experience of autism to champion disability inclusion and neurodiversity. She has created and supported initiatives for women in technology in all the industries she has worked in. As part of Google, she is an active member of the Disability Alliance, speaking openly about her autism and the need for companies to embrace neurodiversity and empathic leaders in their workforce. She has also contributed to the company's disability inclusion training, which is aimed at promoting inclusion and demystifying the stereotypes surrounding people with disabilities, especially those who suffer from invisible neurodevelopmental disabilities.
Find out more: Interplanetary Internet developer and tech entrepreneur wins the Rooke Award
2020: Dr Susan Scurlock MBE - founder of Primary Engineer
Dr Susan Scurlock MBE is recognised for her inspirational promotion of engineering through her not-for-profit organisation, Primary Engineer.
Susan started Primary Engineer in response to the government's call to encourage more young people into the engineering profession in 2005. She identified that engineering engagement should begin as early as possible, and that meant in primary schools. The programme began small with just 13 schools in the north of England.
Today the programme has a national impact with an annual reach of over 1,700 schools, 90,000 pupils, 5,000 teachers and 2,000 engineers. The programmes reach as many girls as boys with a 50/50 gender split demonstrating a range of engineering from design to manufacturing and data to climate change. The programmes are supported by a range of industries, universities and councils.
Find out more: The Royal Academy of Engineering has announced 16 winners of its 2020 medals and awards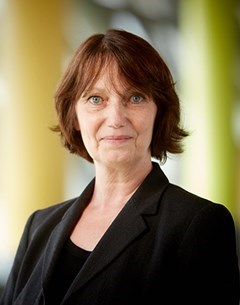 2019: Major Tim Peake CMG
European Space Agency (ESA) astronaut Tim Peake is recognised for his inspirational promotion of engineering and space through the Principia mission's education programme, the largest and most successful educational campaign supporting a European astronaut mission.
Tim was the first British ESA astronaut to visit the International Space Station (ISS), launching in December 2015. Tim was determined to make the Principia mission an exciting adventure for young people, recognising that it was a unique opportunity to engage them in the science and engineering of human spaceflight. Through an educational outreach programme of more than 30 projects, the mission inspired and engaged more than two million school children across approximately 10,000 schools.
On his return to Earth he embarked on a countrywide tour to consolidate the public interest in the mission. His encyclopaedic knowledge of the engineering of the ISS has captured the imagination of young and old alike. Since returning to Earth he has also published three books that engage the reader in key concepts in the science and engineering of space. He also engages directly with his 1.6 million Twitter followers, and has joined Chief Scout Bear Grylls to promote aeronautics to the young people involved in the Scouting movement.
Find out more: Tim Peake wins top engineering award for public engagement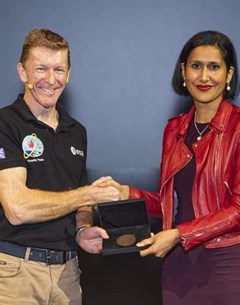 2018: Roma Agrawal
Structural engineer Roma Agrawal is recognised for her contributions to promoting engineering, particularly to under-represented groups, and helping to change the public perception of the professions. As a broadcaster, speaker, and published author, she reaches audiences ranging from five-year-olds to retired engineers and many more in-between.