Event overview
The virtual Frontiers symposium explored the next step and identify practical interventions that use digital tools to prevent and reverse environmental degradation in Asia and Africa. It considered the interconnected roles of monitoring, conservation, and rights and roles of local communities, bringing experts from biodiversity and conservation, engineering, social sciences and community groups together to identify solutions. 
This innovative, interactive virtual event format offered the hand-picked delegates an opportunity to engage with participatory activities, connect with expert peers around the world, and engage with cross-cutting issues through three themes:
Technology for participatory research and decision-making
Technology for data access, visualisation and analysis
Technology for real-time monitoring and learning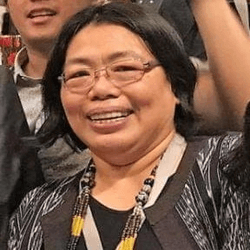 Minnie Degawan, Director of Indigenous and Traditional Peoples Program, Conservation International.
Minnie is an indigenous Kankanaey-Igorot from the Cordillera, Philippines, and has been an activist for indigenous people's rights since she was a student. She held roles at the Cordillera Peoples Alliance (CPA), then the biggest indigenous people's organization in the Philippines, which she represented in Geneva to draft the UN Declaration on the Rights of Indigenous Peoples. She joined other indigenous activists from Asia in organising the regional caucus and held annual meetings to prepare and consolidate positions. She helped form the International Alliance of Indigenous and Tribal Peoples of the Tropical Forests, before becoming the Executive Director of Dinteg, a legal resource centre for the rights of indigenous peoples. She was then the Regional Coordinator for Asia of the International Labour Organization project on Convention 169. 
Minnie became Project Coordinator of a Global Environment Facility-funded project that spanned nine regions to enhance the participation of indigenous peoples in biodiversity conservation. In various capacities, she also worked with: Minority Rights Group, International; the Forest Dialogue; Program for the Enhancement of Forest Certification (PEFC); and the Forest and Climate Program of the World Wildlife Fund for Nature (WWF), before joining Conservation International in 2016 as Director of its Indigenous and Traditional Peoples Program.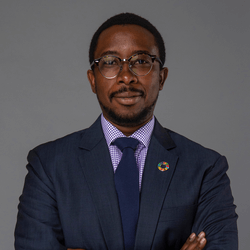 Edwin Macharia, Global Managing Partner, Dalberg Advisors
Edwin sets Dalberg's direction and oversees activities across offices worldwide.
Prior to that, Edwin served as the firm's Africa Regional Director. He was instrumental in building out the firm's footprint, talent and capabilities in Africa. Also, he has played catalytic roles across the firm, including pioneering the Agriculture & Food Security practice; chairing the Strategy, Impact & Quality Committee, one of two governing bodies in the firm; and incubating Dalberg Implement. In his advisory capacity, Edwin supports clients on a range of issues including strategy, operational efficiency, and program implementation. He is a board member of Nabo Capital and Digital Green. He also serves as member of The Nature Conservancy Africa Council, and the Amref University Governing Council.
Edwin holds a degree in Biology from Amherst College. He has been recognized as a Young Global Leader by the World Economic Forum and was listed by Forbes as one of the 10 Most Powerful Men in Africa in 2015.
Event format
The symposium took place from 09 to 19 January, with participants joining the launch session on 9 January, and live sessions on 18 and 19 January. During this period, participants also had the chance to engage and discuss in many coffee breaks.
Outside of these sessions, the specially-designed platform let participants engage with pre-event content, network with follow delegates and join informal meetings to boost their ability to collaborate on the challenges. 
Seed funding
Grants of up to either £10,000 or £20,000 is available for participants of the event to take forward new ideas inspired by the event. Please visit our Seed Funding page to find out about the eligibility requirements and other details. 
Supported by:
This event and seed grants are supported by the Reversing Environmental Degradation in Asia and Africa (REDAA) programme, which is funded by the United Kingdom's Foreign, Commonwealth and Development Office (FCDO) and managed by International Institute for Environment and Development (IIED).

---