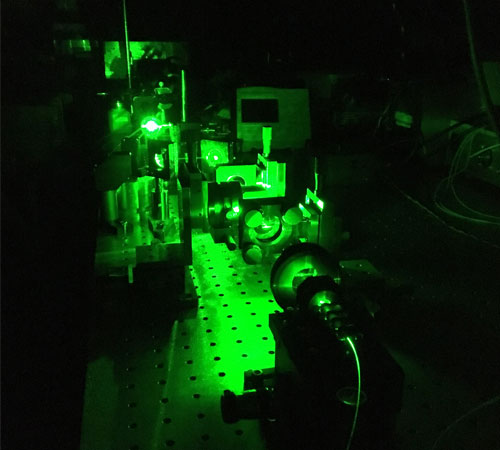 Engineers are drivers of economic opportunity, positive social impact and advances in technology innovation. This comes from leveraging advances in research to develop and deliver new products, services and enterprises that generate jobs and benefit society. Engineering jobs tend to be relatively high-wage and high-productivity, and therefore should be of considerable value to the local economies in which they are located. However, given the UK has significant geographical inequality, with successes and opportunities not equally spread across the country, we wanted to understand the role engineering currently plays in local economies across the UK.
As an Academy, it is our goal to harness the power of engineering to build a sustainable society and an inclusive economy that works for everyone. We are establishing a UK-wide network of Enterprise Hubs to help grow our devolved administration and regional support offer. The first of these regional Hubs opened in Belfast in 2020, followed by Swansea in 2022 and soon Scotland in 2023, helping places, businesses and entrepreneurs set a new level of ambition for their engineering economy.
This report provides insight on the balance of employment in engineering R&D and practice, and on jobs in the engineering economy for non-engineers.
The engineering economy
The total engineering economy contributes up to an estimated £646bn direct GVA annually to the UK economy, which is over 30% of total economic output. The engineering economy provides high value, highly productive jobs, where the average value of an individual engineering job, £70,000, is worth almost a quarter more in GVA than the average UK job. Of the 8.1m people working in the engineering economy, 5.70m (70%) are engineers and 2.4m work in a non-engineering role in an engineering business. These vary across the 'research', 'support' and 'other' roles in engineering, containing jobs which provide integral services that underpin the operation of engineering businesses. Engineering businesses overall employ 6.07m people.
8.1 m
Engineering employment
74% rest of the economy
26% Engineering economy
720 k
720k Engineering businesses
13% Engineering economy
87% rest of the economy
£646 bn
GVA output
32% engineering economy
68% rest of the economy
The size and diversity of engineering means that its employment falls across many different sectors of the UK economy. Engineering plays a pivotal role in construction, manufacturing, metals and mining, and utilities. It also makes up almost 80% of the UK information and communication sector, with roles like software programming and web design, and almost a third of professional, scientific and technical activities, with roles like mechanical and electrical engineers and research and development managers. This diversity and scale emphasises engineering's national economic importance and influence, underpinning a range of activity from machinery-based to computing and research.
See Figure 4 in the report pdf to see how engineering employment is distributed across the UK's broad sectors.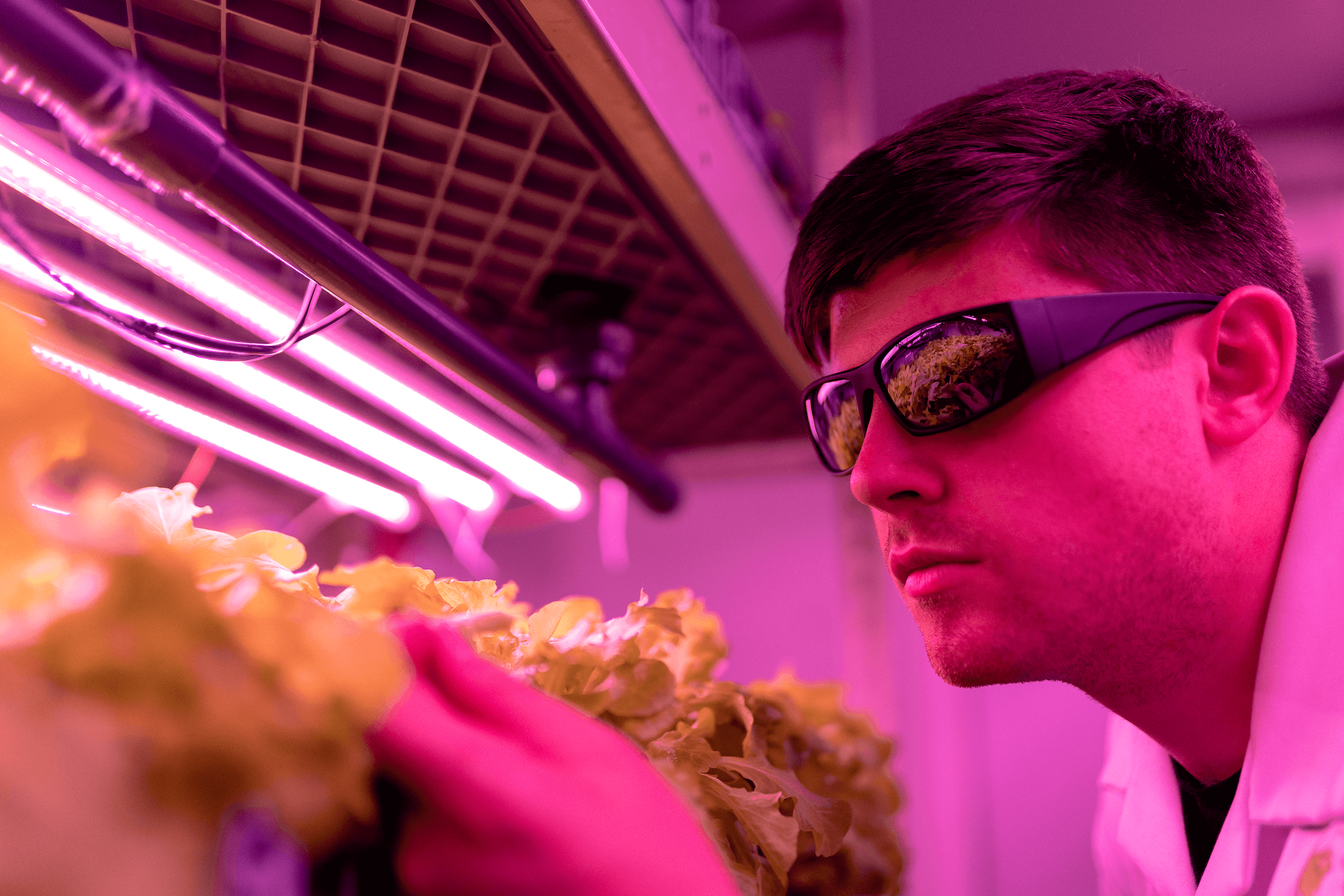 The following maps show how the 8.1 million jobs, 720,000 businesses and £646 billion GVA are distributed in local authorities across the UK. As described in the introduction, there are four primary 'Tier 1' metrics used to analyse the engineering economy:
Volume: the total number of jobs in the engineering economy.
Value: GVA per engineering job.
Local Significance: the proportion of total local employment that is within the engineering economy.
Industry Specialisation: the concentration of engineering businesses within a place relative to the UK average (using location quotient analysis).
Each of these are presented as maps on the following pages, showing the spatial variation of each indicator across the UK. This is followed by an additional map which presents the proportion of engineering jobs in R&D by local authority. This was intentionally kept separate from tier 1 metrics to see how R&D levels changed depending upon the dominant engineering economy characteristic.
Volume: the total number of jobs in the engineering economy.
Places with large volumes of engineering employment tend to have a much higher population density. Cities, urban centres and their surrounding areas are more often the places with the highest absolute volume of workers. However, large volumes do not always translate into high local significance in cities as engineering is often 'one of many' rather than a dominant presence. This is most evident in London boroughs.
| | |
| --- | --- |
|   | 133 -10,000 |
|   | 10,000 - 20,000 |
|   | 20,000 - 30,000 |
|   | 30,000 - 40,000 |
|   | 40,000 -60,000 |
|   | 60,000 - 137,370 |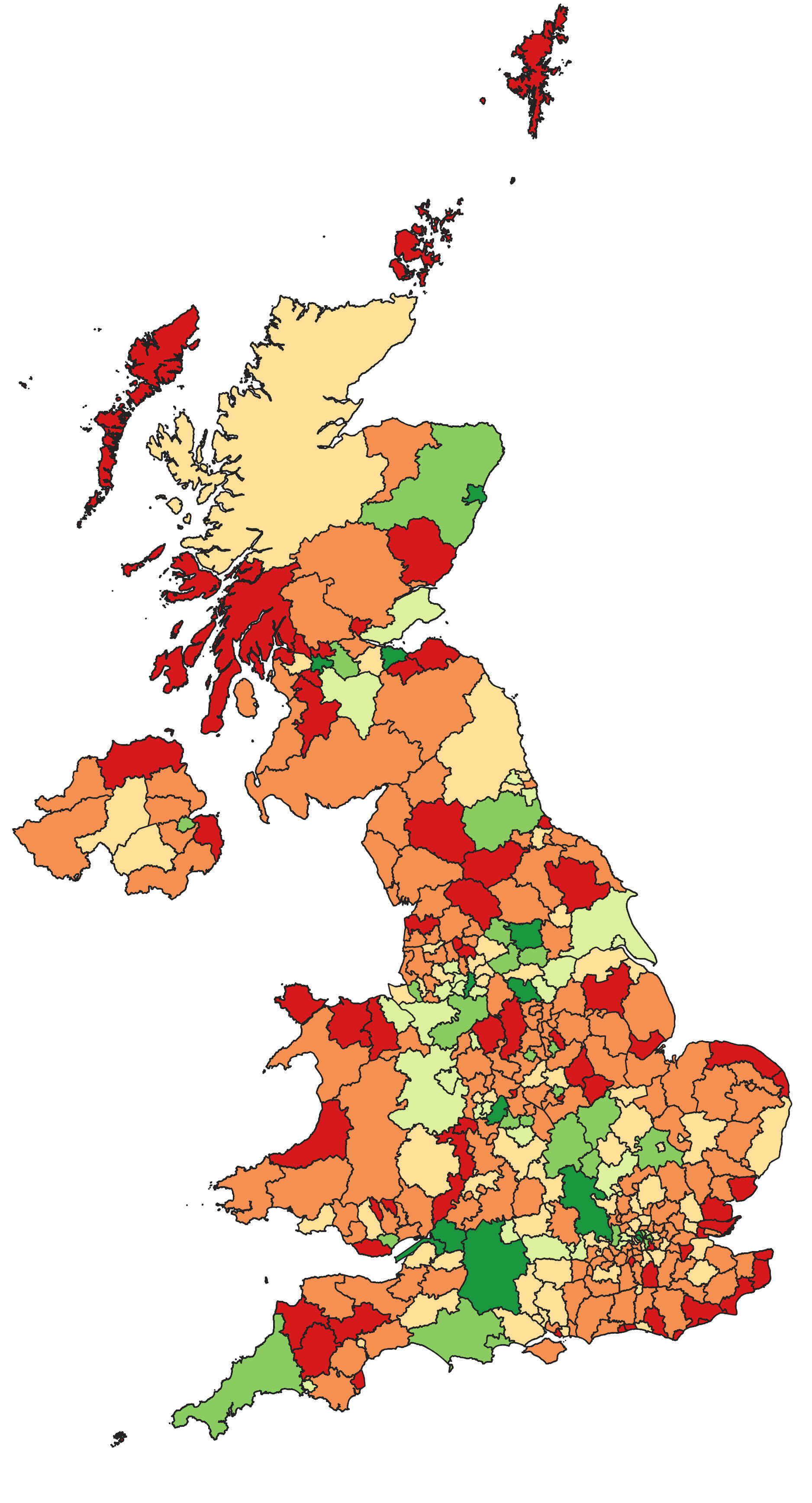 Value(£): GVA Per engineering job
| | |
| --- | --- |
|   | 38,000 -50,000 |
|   | 50,000 - 60,000 |
|   | 60,000 - 70,000 |
|   | 70,000 - 100,000 |
|   | 100,000 - 125,000 |
|   | 125,000 - 200,999 |
In terms of value, there is not a North-South divide to the same extent as there is in national GVA proportions. Whilst many of the strongest places for value are in the South East, there are also several places across the Midlands, North West and Scotland which are above average. Outside of London, high value engineering economies include South Derbyshire, Cheshire East, Wokingham and Stratford-on-Avon. However, values are more variable from place to place outside of the central South East, with a stronger likelihood that the highest performance in a sub-region will be a city centre and its adjacent boroughs.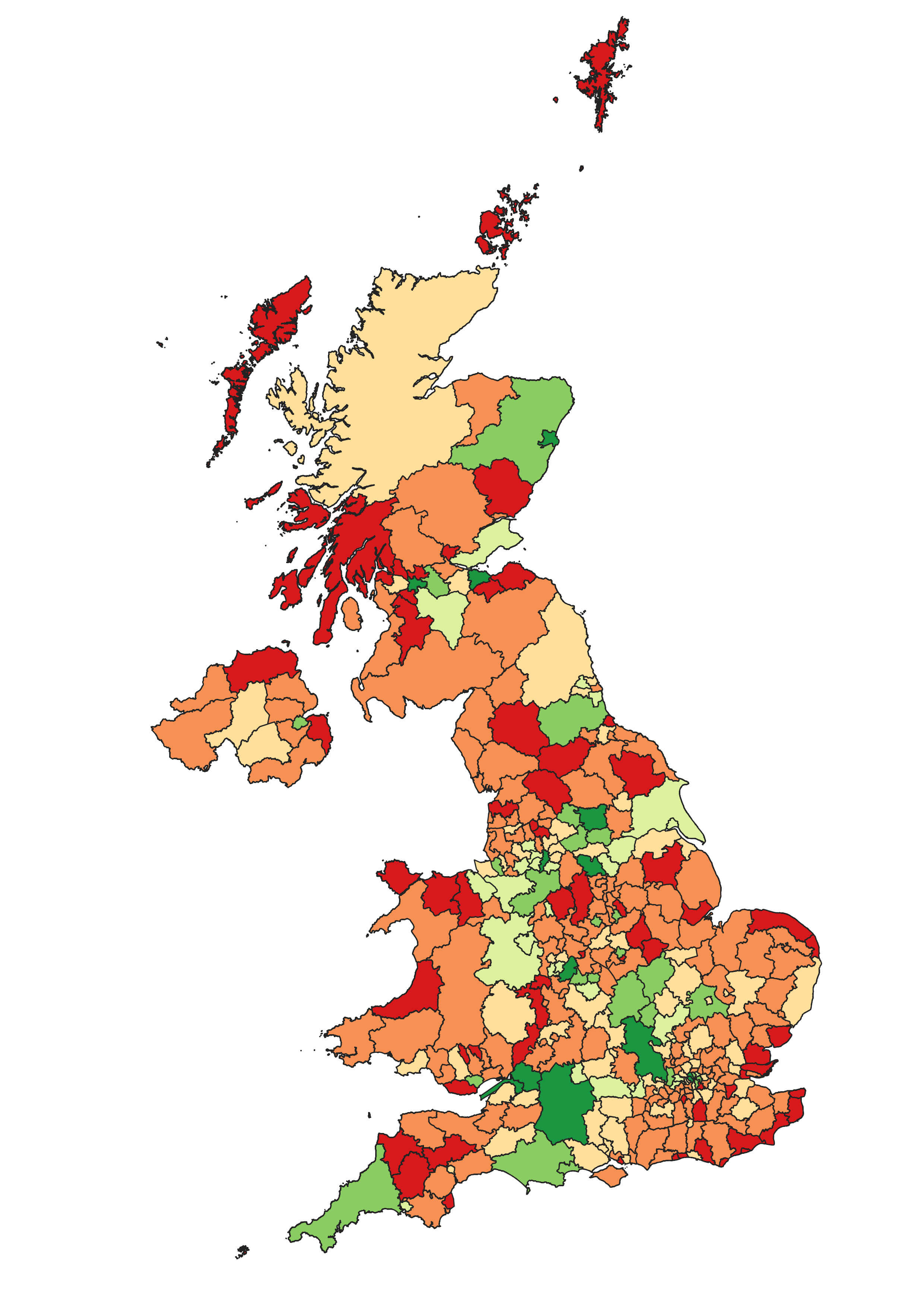 Local Significance: the proportion of total local employment that is within the engineering economy.
| | |
| --- | --- |
|   | 11%- 20% |
|   | 20%- 25% |
|   | 25% - 30% |
|   | 30% - 35% |
|   | 35%- 40% |
|   | 40% -50% |
The prominence of cities is diluted when considering local significance. Representing 26% of jobs nationally, engineering cannot be overlooked anywhere. It makes up at least 11% of employment in any local authority (Isles of Scilly being the smallest) and 50% at its highest (found in Copeland, Cumbria). It is highly significant to the local labour market in more sparsely populated places, providing large numbers of jobs which tend to be concentrated on larger sites and generate above average value per job. However, rurality is not always a consistent indicator for significance.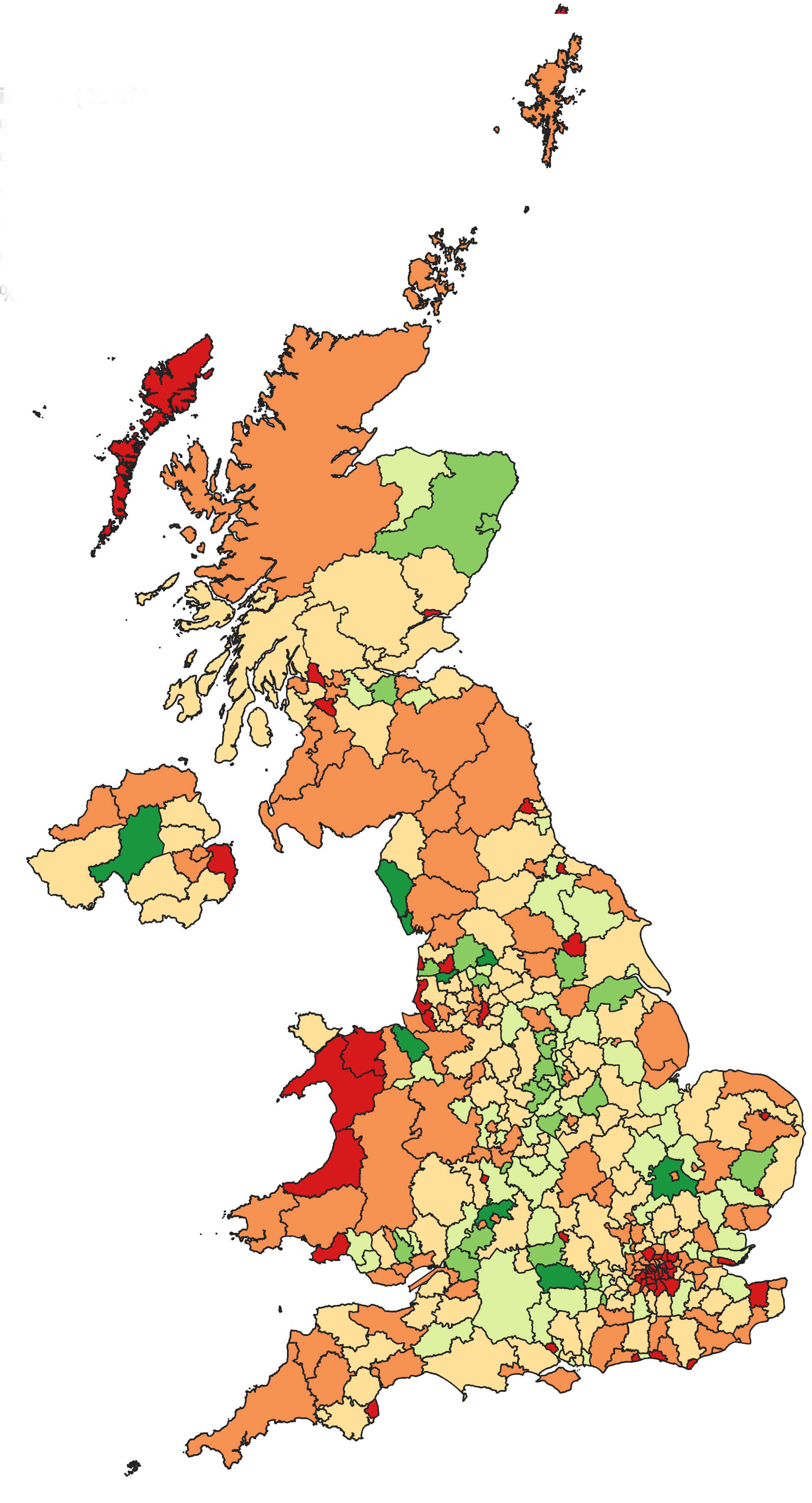 Industry Specialisation: the concentration of engineering businesses within a place relative to the UK average (using location quotient analysis)
| | |
| --- | --- |
|   | 0 -0.7 |
|   | 0.7 - 1.1. |
|   | 0.9 - 1.1. |
|   | 1.1. - 1.25 |
|   | 1.25 - 1.3 |
|   | 1.3 -1.52 |
Industry specialisation, referring to the concentration of engineering businesses, has a similar distribution but differs in that most specialised places tend to be near cities – South Gloucestershire-Bristol, South Cambridgeshire-Cambridge, Fareham-Portsmouth and a clear loop around London all reflect the pull of city regions rather than city centres specifically.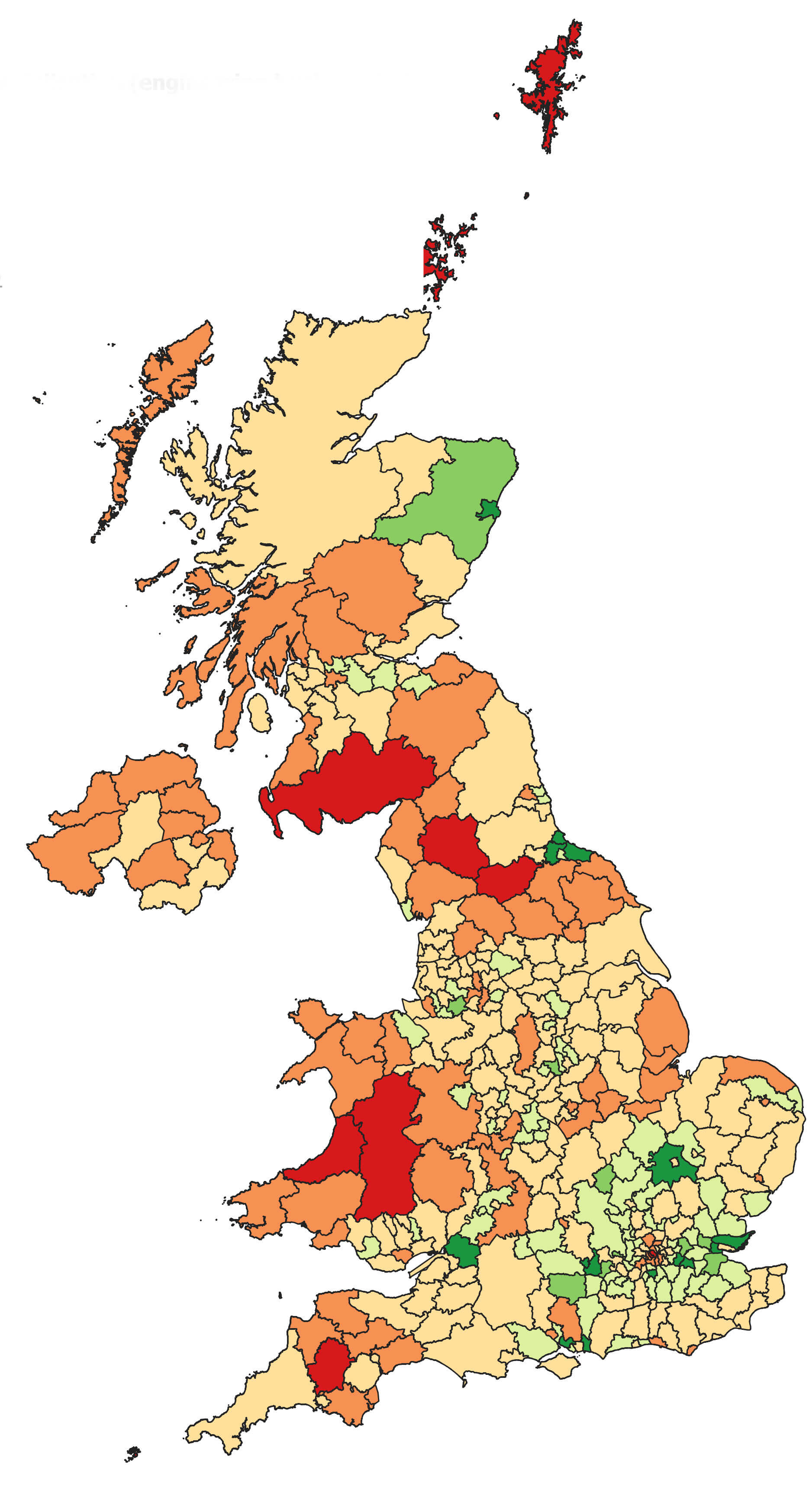 A new typology for Engineering Economy & Place
The typology presented in this section brings together engineering, economy and place features under three themes:
the engineering economy
the engineering enterprise
place economics.
These themes, or tiers of indicators, have been used to categorise all 374 local authorities in the UK. This process, outlined in the report pdf, has identified five broad typology categories. Individual authorities have been grouped together based on shared characteristics and trends, rather than geographical proximity although some within each category share boundaries or regions.
Types of engineering economies in the UK
High flying innovators: The innovation dominant engineering economies specialising in R&D related activity. These places are collectively high in value and volume and have a high proportion of their engineering jobs in R&D related occupations. They are based in highly populated areas, which are generally more prosperous and engineering businesses are growing in number.
Embedded engineering: These are economies where engineering is not necessarily dominant but due to the widespread nature and relative high value of engineering, is likely to still have an important role locally as an employment provider and a driver of growth.

 
Local engines: A diverse group where engineering plays a very significant role in the local economy, providing at least 25% of overall employment. Some of these places have large engineering businesses which are major employers and have high GVA output, while others have concentrations of engineering businesses but have not been able to transfer this into more significant economic benefit.
Volume heavyweights: The places which contain some of the largest engineering employment footprints in the UK. These combine high-density, high-volume engineering cities with more rural areas where large, high performing firms are located. Combined, they provide a large volume of jobs, equivalent to 28% of the national engineering economy, but the value per job is relatively lower than in value hotspots or high flying innovator places.
Value hot spots: The high value engineering economies, where jobs are on average worth at least £80,000 in GVA per engineer, £10,000 higher than the engineering economy average. These places are lower in volume and despite their high value, are not seeing widespread growth in their engineering business base. This is instead limited to specific concentrations, many of which are located either around or in key and core cities.
Metro Dynamics
Metro Dynamics was founded to add lasting capacity to places, and we are passionate about the next phase of their complex and exciting future. From our beginnings in supporting devolution, we have worked with central government departments, cities, universities, investors and businesses. We advise people working and investing around the country on all aspects of how to make their place better, from physical development and regeneration to innovation and business support, to inclusive growth, skills, and sector development.
This report is the product of detailed research and analysis that it is impossible to capture in a single document. The underpinning data, including summaries for each Local Authority, can be found on the dashboard below.