Help change public perceptions of engineering on 2 November 2022
This is Engineering Day will return on 2 November 2022 as National Engineering Day and will focus this year on showcasing how engineering improves lives.
We've changed the name to broaden the appeal of the day and reach partners and audiences who aren't familiar with the This is Engineering campaign. National Engineering Day remains firmly part of the This is Engineering, with the aim of attracting public and media attention, sparking a conversation about what engineering really looks like and change public perceptions of the profession.
This year's theme: improving lives through engineering
Current research tells us that 'having a positive impact on the lives of others' is a key career motivator for young people. We also know they want to see how engineers come up with solutions and learn more about the people that are benefiting from the innovation.
So, whether it's a device that makes music tactile or a virus-busting vaccine, clothes that grow with you or a battery that makes any bike electric, the day will make visible the engineers and engineering delivering a small improvement to someone's day-to-day life as well as helping to tackle the big challenges of our time. On 2 November 2022, we'll also be sharing the stories of those that have benefitted.
Watch this space for more updates on plans for the day. If you'd like to get involved please email sarah.wright@raeng.org.uk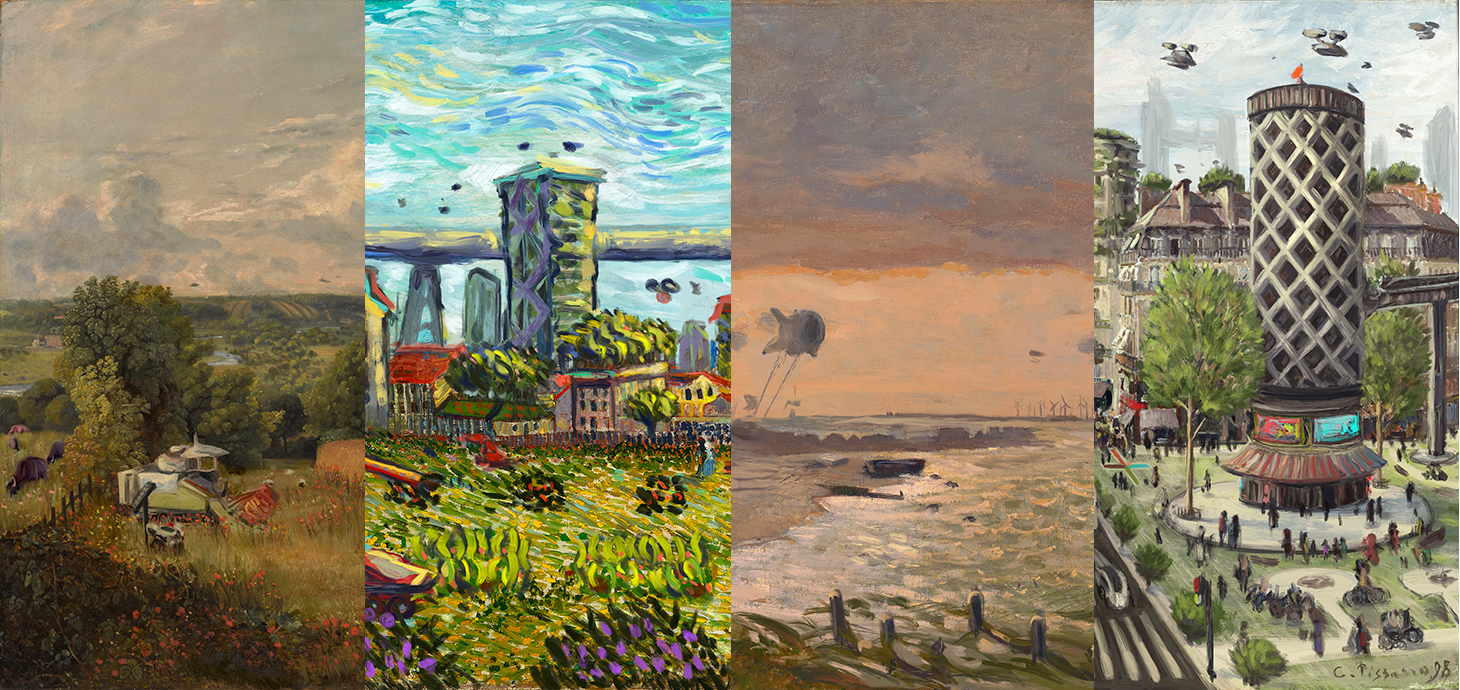 ---
This is Engineering Day 2021
In 2021, This is Engineering Day landed at the start of COP26, when public conversations were focused on what we need to do to tackle climate change and become net zero by 2050. Through reimagined artworks, we envisioned what landscapes, seascapes, and cityscapes would look like in a net zero world in 2050. From agriculture to travel and energy to housing, we shared how engineers can mitigate the effects of climate change and help us live a more sustainable life tomorrow.
News Release: 18th and 19th Century artworks reworked to imagine a net zero carbon future shaped by engineering 
The Academy worked with a digital artist who reworked masterpieces by Monet, Van Gogh, Constable and Pissarro to inspire a conversation about the engineering advances that could help to achieve net zero carbon emissions by 2050.
Innovations such as agricultural robots, smart thermochromic windows, vertical farms and flying taxis have been woven into the reimagined impressionist masterpieces to depict what a more sustainable world may look like in the future.
Over the course of the Day, and thanks to an incredible community of partners and supporters we:
Achieved a total media reach of 33 million 
Hashtags from the day were seen over 30 million times
Set up a pop-up art installation at the University of Strathclyde in Glasgow, the host city for COP26
Hosted a special Green Skills themed panel discussion as part of our COP26-linked Ask the Engineers event series
Secured widespread media coverage including in The Mirror, The Sun, Channel 4, Radio 4, The Times, and on Steph's Packed Lunch with engineers who feature in This is Engineering and the Great British Bake Off.
---
This is Engineering Day 2020
News release: Academy calls on engineering community to show young people how they can 'be the difference' 
This is Engineering Day 2020 saw the Academy's plans to launch a new, pandemic-proof, virtual museum: the Museum of Engineering Innovation on Google Arts and Culture, with an inaugural collection showcasing the engineering behind Paralympian Jonnie Peacock's blade, vaccine manufacturing and Shakespearean theatre.
We also hosted five online Q&A sessions for students, attracting over 420 registrations from schools and the engineering community. The discussions were recorded and are available to view here. 
Media highlights included features on BBC World Service and Channel 4's Steph's Packed Lunch, and articles in the FT, The Metro, Daily Express, and Forbes.  
Engineers and engineering organisations across the country got involved in the day both online and offline. Highlights included:
Transport for Greater Manchester provided over 170 poster sites around their network featuring the Museum QR code
Network Rail shared campaign content on over 50 screens in stations across the UK
Amazon re-programmed Alexa to answer questions about engineers and This is Engineering Day and created an Alexa engineering quiz, and special engineering book list.
The Mercedes F1 Team and Lewis Hamilton created a bespoke new video for their social media accounts, which generated over 836K views and 316K likes
---
This is Engineering Day 2019
In 2019, we hosted our very first This is Engineering Day on 6 November 2019, in the middle of Tomorrow's Engineers Week, a day to raise awareness of what engineers really do and celebrate those who are shaping the world we live in.
To challenge the narrow public perception of engineers and engineering, we launched a new public image library of more representative images of engineers, a new Instagram channel @ThisisEngineering, and a challenge to help us change image search results for the word 'engineer'.
Engineers and engineering organisations across the country got involved in the day both online and offline:
Over 130 organisations signed a pledge to increase the public visibility of more representative images of engineers and engineering
Over 780 images were dontated to our free engineering photo library by over 40 partner organisations
Amazon Alexa answered questions about This is Engineering Day and the role of engineers, and Amazon ran engineering-focused tours of Amazon's fulfilment centres
Network Rail showcased real images of engineers on 60 screens across 15 stations in the UK, and across the Virgin train network
Facebook created and promoted new engineering video content featuring their engineers
Google hosted an engineering takeover at its Portsmouth Digital Garage
Celebrities including F1 World Champion Lewis Hamilton, author and present Konnie Huq, astronaut Tim Peake and Great British Bakeoff finalist Andrew Smyth marked the day on social media, helping #ThisisEngineering reach over 12 million people on 6 November alone